Journal of Chongqing University of Posts and Telecommunications"(Social Science Edition)
Originated in 1986, this journal (bimonthly) earns itself the reputation as Journal of Excellence in Chinese Humanities and Social Science, and the level 1 Journal of Chongqing, featuring Information Law and Economics of Networks.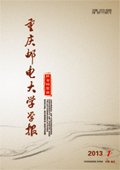 Digital Communication and Networks
Digital Communications & Networks (DCN)(CN 50-1212/TN,ISSN 2352-8648), sponsored by Chongqing University of Posts and Telecommunications (CQUPT), is a fully open access English quarterly co-published by CQUPT and Elsevier. Adopting the advanced Elsevier Editorial System(EES) and fully included by Science Direct(SD). The honorary Editor-in-Chief of DCN is Wu Hequan, academician of the Chinese Academy of Engineering; the Editors-in-Chief are Dr. Wang Chonggang ( InterDigital, USA), Prof. Hu Huosheng ( Essex University, UK), and Prof. Lin Jinzhao (CQUPT, China). The editorial board of DCN consists of 66 academics, professionals and experts in the field of information communication and network from 18 different countries and regions such as America, United Kingdom, France, Canada, Japan, Singapore, etc.
Rigorously peer-reviewed and high quality original articles and authoritative reviews that focus on communication system and networks will be published in DCN. Conference papers may be accepted after peer-reviewing. Special issues of the journal that focus on a particular aspect of the field are also published from time-to-time.