On the morning of November 24, the opening ceremony of the Belt and Road Initiative Advanced Seminars for Communications Industry International Cooperation, hosted by Chongqing Municipal People's Government and undertaken by CQUPT, was held in the Training Center of our university. Guests attending the ceremony included Vice President Xu Guanghong, Dean of School of Economics and Management, teachers' representatives, and all students of the seminars.
Xu Guanghong extended a warm welcome to 22 students coming a long way from Iran, and introduced major characteristics and discipline advantages of CQUPT. Supported by our university's discipline advantages and major characteristics, the Belt and Road Initiative Advanced Seminars for Communications Industry International Cooperation is aimed at providing the students with not only a chance to know the development of China's communication industry and sense China , but also a platform for communication with Chinese local enterprises.
School of Economics and Management attached great importance to the holding of the seminars. With respect to training courses, it arranged five fields such as information and communication technology, information and communication management, Chinese culture, enterprise investigation, and special docking of communication enterprises of China and Iran , hoping that the seminars could be a platform for mutual communication and learning.
Representatives of students delivered speeches to express their gladness of participating in these seminars and their beliefs of learning more about China and its communications industry through the seminars.
It is learned that this training, based on professional training, will have corresponding investigation and research of enterprises, including on-the-spot investigation to China Telecommunications, and provide relevant practical activities about courses of China's national conditions, Chinese culture and Chinese enterprise culture, in order to help students better understand China and her enterprises. As a southwestern hub for the Belt and Road Initiative, Chongqing enjoys obvious geographical superiority. Therefore, this training is of great significance to establishing a platform for international cooperation and exchanges, promoting the spreading of China 's new generation of mobile communication technology to the Belt and Road Initiative, and enhancing Chongqing's capability of cooperating with countries along the Belt and Road Initiative and its influence on these countries.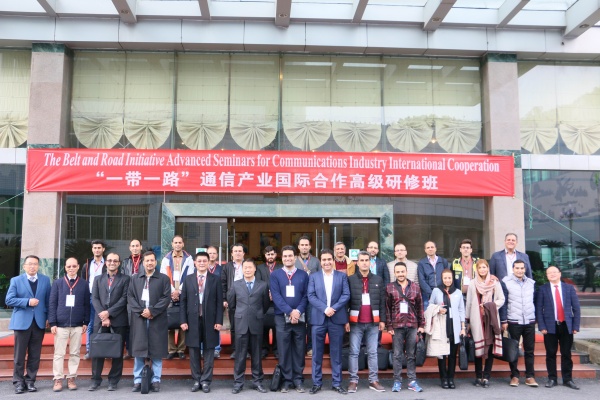 Opening ceremony of The Belt and Road Initiative Advanced Seminars for Communications Industry International Cooperation is held in CQUPT